On August 5, 2015 we got the exciting news for The Sims 4 "Get Together" expansion pack at Gamescom. To be released in November, this exciting new addition is going to be adding a lot of new content to the game. Let's break down the new features about the next expansion.
On the Sims website, SimGuruRomeo talks about a new feature in the expansion called Clubs that "allows Sims to totally break the rules of the game". This means that there has been a peer pressure system added that will override a Sim's individual personality.
As the player, you will create clubs by choosing rules for its members to follow. Some rules include:
The Clothing your sims wear while together
The type of hangout location
Who gets to join the club
Encouraged and Discouraged behaviors
Have you ever wanted to make a venue that you could totally control. with Sims 4 "Get Together" you can finally do it!
Have you ever had a lazy sim and wanted to make him join Gym to loose those extra pounds? Now you can send him off to a fitness-based club and they will work out with the fellow members. Or maybe you have a good sim who turns to the dark side by joining a club based around meanness.
We can now bring "Fight Clubs' to our game and use the new club rules to make them rival gangs who will pick fights with each other. Our Peaceful Sims might even start a brawl if they're in a Fight Club, and shy Sims could end up being amorous if their Flirty Club encourages it. Thankfully when our Sims return home they will no longer keep the behavior your sims have while in a Club Gathering. This way the Sims normal behavior shines through to make them unique.
We will be getting a new feature that make it where you will now be able to hover over a Sim to learn their name and which clubs they're members of, and quickly be able to scan the room to see which clubs are having a gathering, and who is the leader of the different clubs.
Clubs will be able to have 10 rules total. This will be 5 encouraged and 5 discouraged rules. At this time we are unsure of these new "rules" but we can take a few guesses.
Aside from Clubs we will be getting even more activities with our sims and their friends. Why not go out for a day of fishing and go for a swim in the lake. Then go for a night out with your girlfriends and shop for new clothing in the wardrobe. Don't be scared to let her know she looks bad in stripes.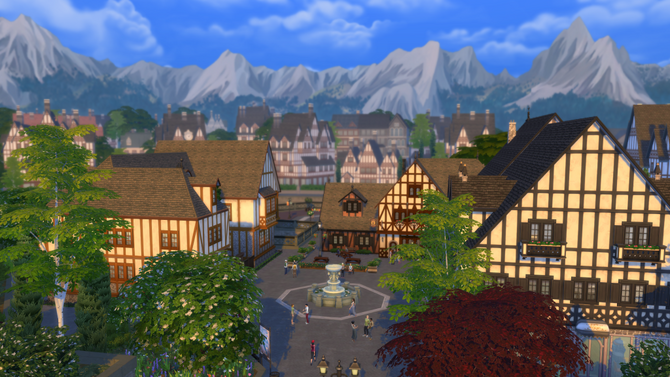 With this new expansion we will be given a new thriving 'European-inspired' world called Windenburg. A Mix of vibrant, modern architecture and classic buildings and styles. This world includes a charming countryside, bustling town square, and a luxurious island with new group activities, and new skills for your Sims to build.
But don't worry, you wont be exploring the new world of Windenburg alone! In "Get Together" you will be able to go out with you in-game friends and make exploring truly unique. Whether you are enjoying a bond fire on the beach,  lounging in the back of some pub playing foosball, or dancing the night away in a DJ club.
Another great feature about the "Get Together" expansion we also get two new skills for our Sims to level up: Dancing and DJing skills. Both of which will make for some interesting gatherings with your sims. Whether you pump up the crowd by creating an unforgettable mix on the DJ booth, or start busting out new moves in an underground disco, your Sims are in for a wild good time with the Sims 4 'Get Together' expansion.