Whether you like the main gameplay object for The Sims 4 Fitness Stuff Pack or not (the climbing wall), that doesn't mean that you don't get to enjoy the rest of this Stuff Pack. Here are 8 good-looking objects that, although don't bring any new functionality, will look great on your lot. For a full overview of new objects that come in Fitness Stuff Pack, CLICK HERE!
1) Perfect Balance Loveseat
A very unique-looking loveseat for two, perfect for taking a nap after a long workout session.
2) Ascendant Portal Mirror
A mirror that looks both ways? That's a first one in The Sims 4. Although you only get to use it from one side it still looks pretty cool!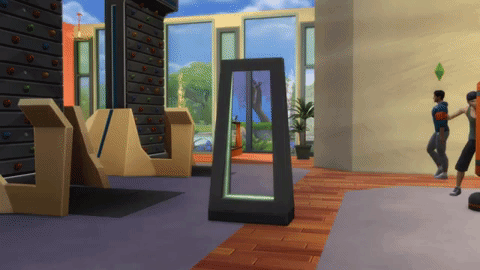 3, 4) Signature V Dinner Table + Hammer Forged Chair
This glamorous dinner table for up to 8 Sims combined with the hammer forged chairs are perfect for big parties with lots of food.
5) Unfathomable End Table
A very unique mix of wood and glass textures, plus the swatches that come with this object are phenomenal!
6) At One With Shower
Another gorgeously designed object that mixes wood with glass.
Tip: there are wallpapers that come with The Sims 4 Fitness that match some of this shower's color swatches!
7) Trap's Trapezoid Tub
After a huge amount of packs released for The Sims 4 we finally get a different looking corner tub that we've originally got in The Sims 4 base game.
8) Tear Drip Drop Lamps
There are 3 different heights of this lamp. Try mixing it up with some of the objects from City Living and Movie Hangout for an urban / boho look of your room.